It's the 21st of May and the 21st means Release Day for TNS! This time, Dawna made a lovely feminine kit in pinks and purples, with a hint of green and yellow thrown in for good measure. Did you take your mother out for Mother's Day? This kit will be perfect for scrapping those photos with.
Blossoms of My Heart is heavy on the flowers but that's what makes it such a great feminine kit. However, there are plenty of other elements too: frames, ribbons and bows, hearts, doilies, and even a butterfly scatter flitting over a glittery swirl. The 16 papers are mostly patterned, but there are 4 glitter papers in the pack for those times you want a more solid paper. There is also a super-cute alpha included with the kit! In addition, there is a co-ordinating pack of 15 Swiss Dot papers available separately.
The North Stars was so excited to work with Blossoms of My Heart. Check out the CT layouts and you will see why I wanted to play with it!
As usual, the North Stars wanted you to have a couple beautiful gifts to go along with the kit! Visit their blogs and collect them:
Here's my layout and freebie for you!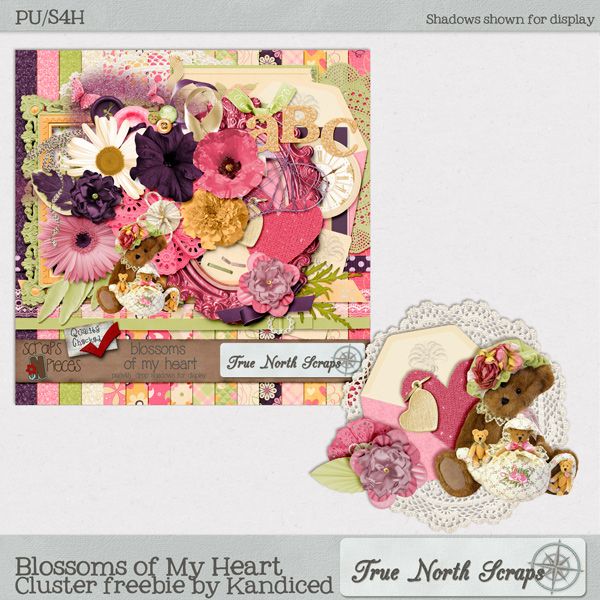 You can download my freebie
here
.