There is so much happening at True North Scraps, so grab a cup of coffee or whatever your beverage of choice is and settle in for a bit while you read this! First of all, today is the last day that the TNS
MouseScrappers store
is open. This is your last chance to pick up several kits that are MouseScrappers exclusives!
Some of these kits will be retired after TNS closes her MS store, others will be revamped at a much later date and won't be available for quite some time. Right now the
entire True North Scraps MouseScrappers store
is on sale for 50% off until it closes. Don't miss your chance to get these exclusive kits at a great price before they are gone forever.
Next news is the new TNS release! Dawna has made a bright and cheery paper pack and an adorable alphabet that is perfect for LOs about young children. Look for it exclusively at her
Scraps N Pieces store
in the Bits N Pieces promotion for only $1 each for the first week of September!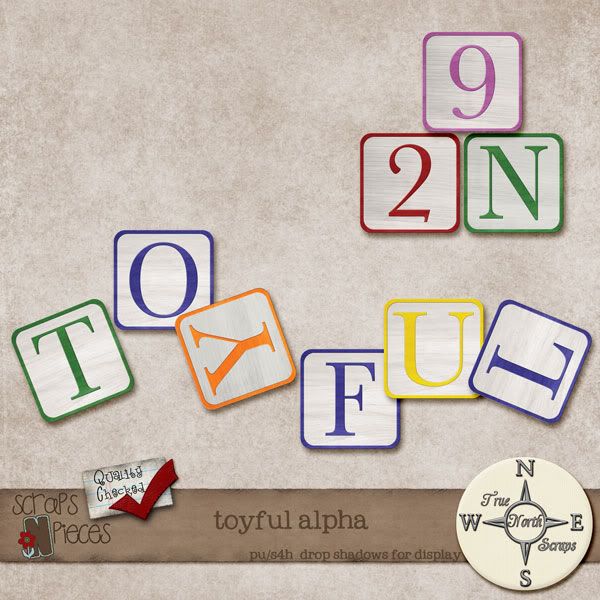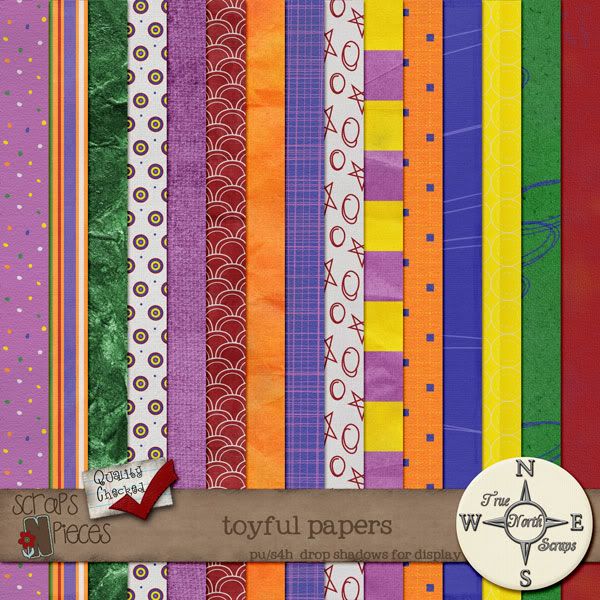 Dawna put together a short slideshow of some of the LOs the talented North Stars made using just the papers and the alphabet blocks:
Tomorrow is the first of September which means it is Super Saturday at Scraps N Pieces! Don't miss the big savings! True North Scraps has 3 products in the sale:
Pick up one of Dawna's clever Dated and Stapled packs. Both are only $1 on September 1st!
Also available for a ridiculously low price tomorrow is the very popular Move It Move It, on sale for $2 only on Super Saturday.
Scrap It to Win It
is just around the corner! Have you signed up yet? You must be signed up by Sept 1 or you can't play, and let me tell you, the prizes are amazing so you definitely want to play! True North Scraps is one of several SNP designers donating prizes to this contest.
And finally, Dawna's two weeks as the
featured designer at Scraps and Pieces
has drawn to a close. Today is your last day to get all your tasks wrapped up. Tomorrow Dawna will be adding up all the points and choosing the winner of the lottery and will get those prizes out as soon as humanly possible. A recap of the tasks/games:
Lottery:
Buy anything in my store between midnight CST Aug 16 and midnight CST Sept 1, and you will get one entry into the draw for a $10 coupon to my store. The draw will take place from all the entries on Sept 1.
Earn Freebies:
1) Template challenge
(free template available here)
= 1 point, plus 1 more point if your LO is at least 75% TNS
2) Wear my blinkie = 2 points
3) Follow me: Pinterest = 1 point, Facebook = 1 point, Blog = 1 point
4)
Sign up for my newsletter = 2 points
5) Purchase something from my store = 3 points (plus the above-mentioned entry into the lottery)
6) Tell me your top 3 favourite kits in my store = 3 points
1 - 4 points earns a coupon to my store for $2.49
5 - 10 points earns your choice of one kit in my store
11 - 15 points earns a $10 coupon to my store PLUS a bonus entry into the Lottery
Surprises:
You just never know.... oh what the heck! I'll let the cat out of the bag! Several people have opened their private message inboxes at Scraps N Pieces to find a surprise -- One of the North Stars randomly sent a coupon to some of the people that have posted LOs in
the TNS gallery.
A couple more lucky people who have uploaded LOs to the TNS gallery, are still going to find a surprise RAK in their inboxes, so make sure you have uploaded there!
One last surprise - if you have been playing along with the Featured Designer games, hopefully one of the tasks you completed was to
sign up for the True North Scraps Newsletter.
If you were signed up before 4 pm Eastern yesterday, you will find a newsletter exclusive freebie in yesterday's newsletter! I hope you didn't miss out!
Whew. My fingers are tired from typing all that out! However, I want to mention a couple more things. "Like" True North Scraps on Facebook and then keep your eyes open for a new exclusive FB freebie, available soon! And finally, there is a big announcement to make soon so make sure you are subscribed to my blog or the newsletter so you don't miss it!