Hi Everyone,
This is my very first attempt at creating anything other than Layouts. I learned so much and had a lot of fun making this kit for you. I think I had the most fun with making the Alpha`s. I used one of Atomic Cupcakes Actions and created the Chipped Paint look. But I`m still learning on how to package things so I only created them in PSD format. I could create TIFF files if anyone wants, just email me.
Here is the gorgeous palette that everyone used to create that extra something special just for you.
Here`s what I did. There might be a few more things in there...apparently I can`t count...LOL! The kit will only be available until February 15 and than retired...lol! Sounds silly!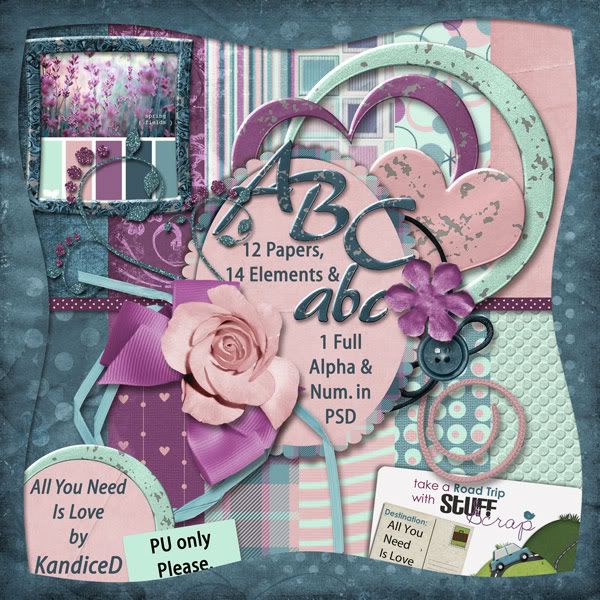 KIT
Alpha`s
Links now have expired!
DoubleTrouble Scraps
CutieFruity
Just For Fun Designs
Busy Crafting Mommy Designs
JMC Designs
Scrappin Serenity
Joyeuse Pagaille
The Digi Scrapping Mama
Flower Pot Designs
A Fish Design
SnickelsCorner Scraps
Ponytails Designs
Mommy Made This
Queen Wild Scraps
Cami Jo Designs
PizazzPixels
Lisa's Scraps
lmcdesigns
scraphannah
Growing Pains Scrapped
The Scrappy Kat
Saphira's Scraps
Kandiced
You Are Here!
Sweet Maple
Junfunkie Designs
Let Me Scrapbook!
Note-able Scraps
Stuff to Scrap
Have fun on the ride and I hope you enjoy your freebies! If you can leave a little love for the designers as I now know it does take some time and dedication to create their lovely gifts. Happy Scrapping!